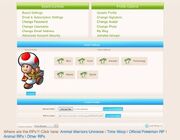 An avatar is a small picture that is displayed on a user's profile at the Pokémon-Animal Warriors Universe forum.
The avatar is seen to be a way of depicting a user or their feelings.
How to upload an avatar on the forum
1. Go to your User Profile on the forum
2. Click on "Edit Avatar"
3. Either upload a picture from your computer, from a website url link, or even select a previously uploaded avatar from the gallery.
4. Click "Save Changes"
5. Congrats, you now have a new avatar on the forum!
Also see
Ad blocker interference detected!
Wikia is a free-to-use site that makes money from advertising. We have a modified experience for viewers using ad blockers

Wikia is not accessible if you've made further modifications. Remove the custom ad blocker rule(s) and the page will load as expected.